2018 Nissan Sentra Review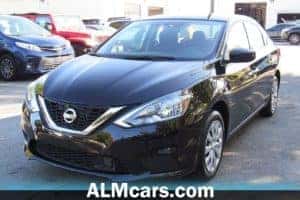 Features & Specs
The 2018 Nissan Sentra has a great deal of cabin space, which makes for a comfortable ride. The car seats 5. As for fuel economy, you can get 29 miles per gallon in the city and 37 on the highway. The Sentra has a forward drive train and its engine is a 1.8L DOHC 16-Valve 4-Cylinder.
The sedan also has a rear defrost function and power windows. It also comes with cruise control as well as power door locks, power mirrors, driver and passenger vanity mirrors, trip computer, and key-less entry.
Configuration
The Sentra has an overall length, in inches, of 182.1 and a height of 58.9.
Safety
The 2018 Sentra earned 4 of 5 stars as a crash test rating from the National Highway Traffic Safety Administration and the highest rating in every test from the Insurance Institute for Highway Safety.
Each Sentra comes with a rear-view camera. Other devices that enhance driver control include a forward collision warning, an automatic emergency braking system, adaptive cruise control, and blind spot monitoring.
Reviews
Most critics give the 2018 Nissan Sentra an average rating. They like the spacious seats and large trunk. They also like the user-friendly infotainment system, which includes Apple CarPlay and Android Auto smartphone integration. They also rave about the smooth ride the car provides over road surfaces.
There is also much to be said about the cost of the vehicle. The Nissan Sentra is one of the least expensive models in its class.
However, many reviewers have pointed out the need for better fuel economy and the poor cabin styling. And although it is not as costly as some other cars in its class, the value for money is not as good. You should review the features, safety, and costs of other sedans before making a final decision about the Nissan Sentra.
ALm Kennesaw carries stock of this vehicle and you can shop online here. If you want to test drive one simply schedule an appointment or come into our dealerships today.