2018 Toyota Corolla Review
The 2018 Toyota Corolla represents a great leap forward in this line of automobiles. The inclusion of a hatchback and a more powerful engine enhances the car significantly; and brings it in line with other vehicles of its size and class.
Features & Specs
Features of the Corolla are that is has a great deal of passenger space, excellent safety features, and an advanced infotainment system, which includes Apple Carplay. It is also second-to-none in fuel economy. The vehicle seats 5 people and gets 27-32 miles per gallon in the city and 35-42 on the highway. It has a four-wheel drive drive-train and produces 132-168 of horsepower.
Photos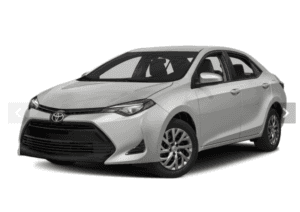 Configuration
This sedan is 15.3 feet long. The weight of the vehicle is between 2,840 and 2,885 pounds. The hatch extends to 14.2 feet. All these figures depend on what is specially ordered for the vehicle purchased.
Safety
The 2018 Corolla has received a five-star rating from the National Highway Traffic Safety Administration which makes it one of the safest vehicles on the road. Another solid review was that The Insurance Institute for Highway Safety gave the car its highest rating.
Some of the other safety features that this sedan includes is a rear-view camera, a pre-collision system, a pedestrian detection system, lane depart alerts, automatic high beams, and adaptive cruise control. The road sign assist feature can report on three traffic signs at once and the lane tracking assist feature can keep the car in the center of the lane. A blind spot monitoring system is also optional with this model.
Reviews
The reviews of the 2018 Toyota Corolla sedan have been mostly positive. People who have test-driven the car have pointed out the impressiveness of the safety features. Many have said that is it the perfect car for people who regularly drive with children in the car. The added hatchback feature has also been praised and the Corolla's advanced infotainment system has been lauded for its ease of use. Overall a great car to buy!